Secured SSL and Payment via PayPal

Protecting the information that you disclose via the online ordering system is a priority at iHeels Australia. iHeels Australia website is fully secured by SSL to protect your personal details online and we use PayPal as the payment gateway for you to complete the checkout that in fact your financial details are not shared or collected by us.
PayPal is the faster, safer way to pay online without sharing financial details, the payment can be funded by your bank account, debit card, and credit card. In addition, with a PayPal account, you can be eligible for refunded returns, Buyer Protection and more. For more information about PayPal, you can go to www.paypal.com

Now with PayPal Pay in 4, you can pay off purchase in 4 equal fortnightly instalment with no interest and no late fees. It is backed by the same security and PayPal Buyer Protection you expect from PayPal.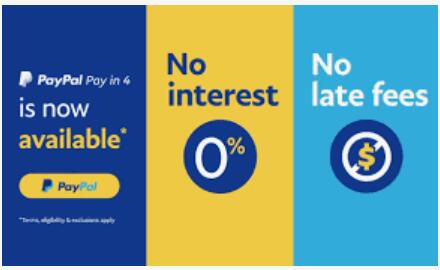 Simply choose PayPal at checkout and then look for "Pay in 4".
Split your payment in 4 - one every two weeks.
With Pay in 4, the payments are interest free.
You will get the same security and and protection you expect from PayPal.
Payments are automatic and easy to manage through the PayPal app and PayPal.com

PRIVACY
iHeels Australia is committed to ensuring the confidentiality and privacy of our customers' personal information. Our privacy terms comply with the Australian National Privacy Principles as detailed in the Privacy Act 1988.
We acknowledge that providing personal information is an act of trust and we take this very seriously. We will only use and disclose your personal information for the primary purposes of our business as a retailer when you have given consent to do so.
COLLECTION OF PERSONAL INFORMATION

We will only collect personal information if it is necessary for us to carry out our functions as a retailer. We will collect such information by lawful and fair means and in an unobtrusive way.
You may provide us with personal information about yourself each time you contact us via phone, email or fax or when processing an online order or subscribing to our VIP club. We may collect information such as; your name, contact details, some personal details and any other information you supply to us.
We obtain this information to provide you with information about our products and services and to also better understand our customers.
SECURITY ACCESS & PERSONAL INFORMATION

The personal information which you provide to us will be kept confidential and secure and will not be accessible for unauthorized use, amendment or disclosure. Our staff is employed on the basis that they must protect the information you disclose. You can access the personal information that we hold about you, at any time, by contacting our Privacy Officer.
ENSURING ACCURACY OF THE PERSONAL INFORMATION WE HOLD

We will reasonably attempt to ensure that the personal information that we hold about you is accurate and up to date. If your details have changed please inform us with the correct information, so that we may update it. If you need to provide us with any changes to your details, please email us via web message system or log in to your account you can update them via the website. (Refer Contact Details)